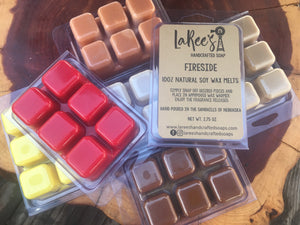 Soy Wax Melts
Our soy wax melts are made with 100% US Grown Soy. Wax melts are designed for home fragrance and are to be used with electric wax warmers.
Choose your desired scent from the drop down menu.
To use: Simply pop the whole wax melt out of the clamshell, snap off desired pieces to melt, and melt in a wax warmer to release the fragrance! 
Don't forget that these make great gifts!
 
This listing is for ONE wax melt clamshell in one scent - the wax weighs approximately 2.5-3 oz. 
Black Raspberry Vanilla - Black Raspberry Vanilla is a smooth, fruity fragrance bursting with all the goodness of ripe berries and creamy vanilla. A top note of black cherry gives way to a heart of raspberry, strawberry, and plum, while base notes of vanilla, sugar, and musk keep this fragrance grounded.  One of our favorites!!  (light burgundy) (also available in candles)

Cactus Flower & Jade - Cactus Flower and Jade is a bright, lively fragrance oil, succulent as the first tender buds of spring emerging from their winter sleep. Sweet agave and watery aloe enhance the fresh-cut green leaves and chrysanthemum petals, while base notes of patchouli ground it with a pleasing earthiness.  (light green) (also available in candles)
 Cowboy Coffee - smells just like freshly-brewed espresso. It's a mix of bittersweet chocolate, coconut, almond, honey, caramel, roasted coffee beans, and burnt sugar (coffee brown) (also available in soap)
Fresh Picked Lilac - this is the truest floral fragrance available - smells just exactly like a fresh picked lilac.  (purple)
Lavender Breeze - reminds me of an enchanting meadow fringed with sprigs of lavender. This fragrance oil is infused with natural essential oils, including lavender, orange, lemon, and cedarwood (purple) (also available in soaps and many of our other products)
Prairie Thunderstorm - smells just like when the sun peeks through the clouds after a prairie thunderstorm. The notes include bergamot, cantaloupe, red apple, geranium, rain, dewy rose, woods, forest, and musk (blue) (also available in soap) 
Rose Quartz - This fragrance is a bright, fresh take on a traditional rose scent. Top notes of bergamot, orange zest and grapefruit open to a heart of dried rose petals and jasmine. Soft sandalwood and musk round out this crisp rose scent. (pink) (also available in soap) 
Saddle Shop (Leather) - this reminds me of what it's like to walk into an old time saddle shop.  Smells like real leather!  The notes include leather, lemon, mandarin, patchouli, and frankincense (natural) (also available in soap) 
Sandalwood Vanilla - an amazing blend of sandalwood & vanilla creates a unique scent loved by all.  A best seller (brown) (also available in soap)  
Sandhills Sunrise (Energy) -  this bright scent has notes of grapefruit , lemon, lime, cucumber, jasmine, pineapple, blackberry & champagne. A customer favorite (also available in soap)
Sea Salt & Orchid - Sea Salt and Orchid fragrance oil is a smooth and elegant blend of soft floral notes with salty highlights.  One of my favorite fragrances (also available in foaming handsoap and candles) 
Sharp Dressed Man - guaranteed to make every lady swoon, this candle smells just like a sharp dressed man (also available in soap) 
Sweethearts in Carhartts - made with all the hard working farm & ranch wives in mind, this candle is scented with honey & leather (also available in soap) 
Tall, Dark & Handsome - scented with the popular "mahogany" fragrance, it reminds me of a tall, dark & handsome cowboy (brown) (also available in soap) 
*This wax will release a softer scent as it does not contain paraffin. Please note that scent throw may vary due to heat of warmer, room size, air flow, personal scent tolerance, etc.. Scent will begin to fade over time. Colored wax may develop 'frosting'. This is simply a characteristic of soy wax. We recommend using your scented wax melts within six months to one year for the best results.