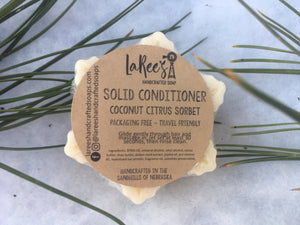 Solid Conditioner Bars
Regular price $13.00 Sale
These solid conditioner bars are just like your regular conditioners except they don't have all the added water, they are made without the harmful silicones and carcinogens of regular conditioners and they are packaging free, which makes them so much more economical to use. These are great for travel!  One solid conditioner bar is equivalent to 2 or more bottles of liquid conditioners.  Conditioner bars condition, nourish, protect, boost shine, and restore vibrancy to your hair. Our conditioner bars are made using coconut based surfactants along with oils, butters, and other special ingredients such as hydrolized oat protein, daikon seed extract (to act as a natural silicone) and pro-vitamin B5, that are highly beneficial to the hair. 
To use: glide gently through hair. and massage in.  Let set at least 30 seconds.  Rinse thoroughly.  Best when paired with one of our solid shampoo bars.  Store on a well draining soap dish, like our soap lift soap dishes!
Prairie Thunderstorm - smells just like when the sun peeks through the clouds after a prairie thunderstorm. One of our most popular scents.  This fragrance is also available in solid shampoo and soap. 
Sandhills Sunrise - this bright scent has notes of grapefruit , lemon, lime, cucumber, jasmine, pineapple, blackberry & champagne. a customer favorite (formerly known as "morning energy") also available in soap, candles & wax melts.

Ingredients: BTMS-50, cetearyl alcohol, cetyl alcohol, cocoa butter, shea butter, daikon seed extract, jojoba oil, pro vitamin B5, hydrolized oat protein, fragrance oil, optiphen preservative.