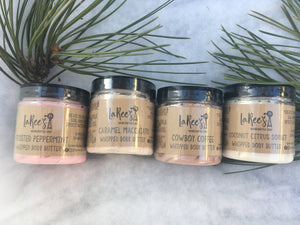 Whipped Body Butters
Regular price $14.00 Sale
A decadent blend of skin loving butters and oils whipped to perfection!  Gives you gorgeous skin and a spa like experience in the comfort of your own home.  Featuring shea, cocoa and mango butters, coconut, jojoba & avocado oils.
This is like lotion but without the added water, so it is packaged in a 4 oz jar.  Saves a lot of room in your purse or cupboard!  There is as much butters and oils in this as you would use to make 20 oz. of lotion!  This will last you awhile!  
To use: dab a tiny bit on your fingertips, and apply to your skin.  Massage in gently until skin is soft and moisturized.  Best when used all over your body after a shower.  Pairs well with one of our luxurious sugar scrubs!
Keep in a cool place.
Coconut Citrus Sorbet - drift away to an island oasis with this amazing fragrance.  You'll love the notes of lemon, lime, coconut milk, and vanilla.  A customer favorite also available in soap, lotion bars, lip balm & whipped sugar scrub.
Lavender Breeze -  reminds me of an enchanting meadow fringed with sprigs of lavender.  One of our most popular fragrances. This is especially nice in whipped body butter as it is relaxing and comforting when applied to the skin.  Also available in soap, candles, and much more.